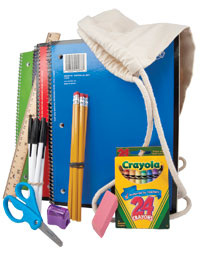 World Relief Kits- Items Needed
Notebooks,notebooks, notebooks!!  Each school kit includes 4 wide-ruled spiral notebooks.
We hope to supply World Relief with 100 kits so we are hoping to have 400 wide-ruled spiral notebooks donated.  Also needed are pens & pencils, blunt-nose scissors, rulers and crayons (16 or 24 count).
Most stores already have these school items in and many are on sale at this time.
Bath-size soap is always needed.  Soap is used in the baby care kits (2 bars in each) as well as the personal care kits.
Donations can be left in the church office or be given to Karen Noe.
To find out more> http://lwr.org/schoolkits