MARK YOUR CALENDARS for Sunday, JULY 16th- Thursday, JULY 20th!!!
PARTICIPANTS & VOLUNTEERS:
To REGISTER for the 2017 Vacation Bible School, please register at the check-in table at Zion during the week of VBS. (Online registration is now closed.)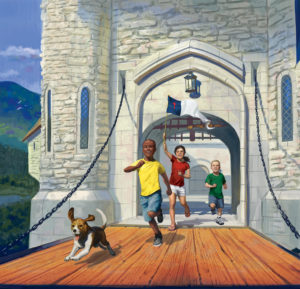 We are currently looking for volunteers to help with Vacation Bible School again this year.  If you are interested, please stop by the church and pick up a volunteer registration form or contact DCE Ben.  Drop off forms in the church office.
** VBS Volunteer Roundup will happen on:
Sunday, June 25th at 11:45am
Wednesday, June 28th at 5:30pm
Please attend one of these training sessions if you are interested in helping.
There will also be "Child Abuse Prevention" Training following the June 28th session of the VBS Volunteer meeting for anyone who has not already accomplished this hour long training.
** VBS Decorating will happen on Saturday: July 15th from 8:00am to Noon.  Please try to attend this decorating party, as more hands gets things done faster!  If you have items that can be used to help decorate, please talk to Sue Peterson, or DCE Ben.
For MORE information go to our VBS webpage:
http://www.zionhiawatha.org/ministries/children/vbs/