COVID-19, Based on the Emergency Declaration

All church activities are cancelled until further notice. We are in the process of developing the ability to live stream services and communication in great new technical ways. God has blessed us with great human resources to get these things done quickly.
You can watch the service Livesteam by clicking here.
Keep checking back for the latest updates.  God is in control, let's enjoy the ride…
Service Times
Sunday
Divine Service
9:30 AM

WATCH LIVESTREAM
[No in-person attendance allowed due to COVID-19]
Christ Crucified For Our Sins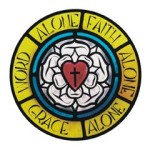 Jesus gave his church the mission of preaching repentance and forgiveness of sins in his name to all nations.  (Luke 24:47) Communicating is central to the work of the church, and in our modern era the internet can be a very powerful tool in enhancing our ability to communicate.  We hope this website will be useful to you in sharing what we believe, how we go about communicating the message of God's grace and forgiveness through Jesus Christ to our community, and how we can help each other grow in that knowledge and apply what we know to our lives here, and our hope for the future.
We pray this website will serve as an invitation for you to join us in worship, fellowship, and ministry.